Starting on Thursday 20th April 2023
If you're thinking of giving golf a try for the first time our Get Into Golf programme is the perfect way to get started. A fun and relaxed introduction to the game whilst exercising in the fresh air and building new friendships.
No dress code, no equipment and no experience necessary
8 week programme starting on Thursday 20th April 2023 at 6pm
4 lessons with our Golf Professional Damien McEvoy
4 on course sessions with our members
Eveyone welcome
Cost £50 per person
To book your place telephone 07786651352 or 02820762536 or complete the application form below and return to mhjones36@gmail.com
Meet the Pro
Damien McEvoy, PGA Professional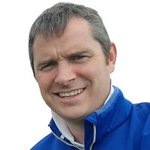 Our Head Professional, Damien has been with the club for 14 years and has a wealth of experience and knowledge. He is dedicated to helping people improve their golf and has a strong reputation within the industry. Damien is looking forward to getting involved in this year's Get into Golf program and feels it's a great incentive to encourage new golfers to the game.